We didn't catch any leprechauns yesterday, which is too bad: there's a good group of folks who are working to raise a pot of gold (well, $48,900 to be precise) for charity. As some of you may know, the Sisterhood (and Brotherhood) of the Shrinking Jeans has sixteen Sisters and one Brother training to run the San Diego Rock 'n' Roll 1/2 Marathon through the Leukemia & Lymphoma Society's (LLS) Team in Training Program (TNT).
They are, in a word, AMAZING!!! I've been following several of the Sisters on Daily Mile, and they are strong, focused, and disciplined bunch, working hard every day toward their goal of rocking that half marathon and making a difference in the battle against blood cancers.
One friend in particular, Christie O. of
Baby Tea Leaves
and a regular contributor/cheertasker on the Sisterhood of the Shrinking Jeans site is going to be walking on a treadmill at her local mall on March 27 until she reaches her fundraising goal. (And today is the last day you can vote on what crazy stunt she'll do when she reaches it, as if walking on a treadmill at the mall wasn't crazy stunt enough. Right now, it's looking like tattoo or tutu for the big race in June...drat, I was hoping for the "faux hawk.")
If you haven't donated already, the Sisterhood is having a fundraising party over the next two weeks with door prizes and the chance to win a grand prize. To find out more, follow the link: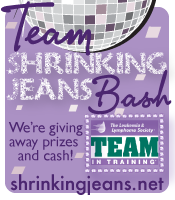 BEST WISHES TO TEAM SHRINKING JEANS!